The current building, built in the nineties, is located perfectly between rural Voorburg and the bustling The Hague. However the building is quite dated and not suitable anymore for the New way of working. The building lies inside "de Binckhorst", a creative and ambitious neighbourhood. The contrast between the current building and its surrounding could not be more starker.
The current layout of the office (20.000 sqm leasable area) is predominantly pragmatic and efficient.  It lacks areas for interaction and communication. The garden in front of the building has a lot of untapped potential.
In the design of TconcepT the building gains a new and inviting centre in the shape of a spectacular 15 meters high atrium. This atrium pulls the building and its surrounding together into a seamless and engaging space where staff and visitors can meet each other and come together.
An expresso bar, informal spaces for working, for meetings, for lunches and a stairs that double as seating facilitate interaction. The atrium becomes a luscious green area by letting the green of the garden dash inside. The atrium has become a central hub for interaction & energy.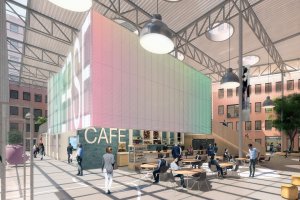 Click here for the official website.
For more information about the project click here.